If you are looking for a place to buy wholesale hand smocked baby boy clothes, then you've come to the right place. At K-Embroidery, we understand the difficulties of wholesale customers when buying wholesale: price unrest, fear of being scammed, fear of orders arriving late, or fear of not being able to do business after purchasing goods.
All those worries will be completely resolved here, that's for sure.
About K-Embroidery - No.1 manufactor of Hand smocked clothing for boy in Vietnam
With over 25 years of expertise in hand smoked children's clothing, K-Embroidery is a trusted destination for all partners globally.
We have a large factory system, with more than 380+ skilled Vietnamese embroidery workers, ready to meet over 20,000 pieces of garment/month.
More than just a wholesale smocked clothing supplier, K-Embroidery is always willing to become an instructor to help your business bloom. Ready to support 24/7 even after the order has been completed.
Those are the basis for K-Embroidery to become No.1 manufactor of smocked clothes for baby boys.
What makes K-Embroidery's boy smocked clothing so special?
" What makes our smock clothes so special is that each product created has its own beauty, no two are the same. Because each product is 100% hand-embroidered, not mass-produced by machine… "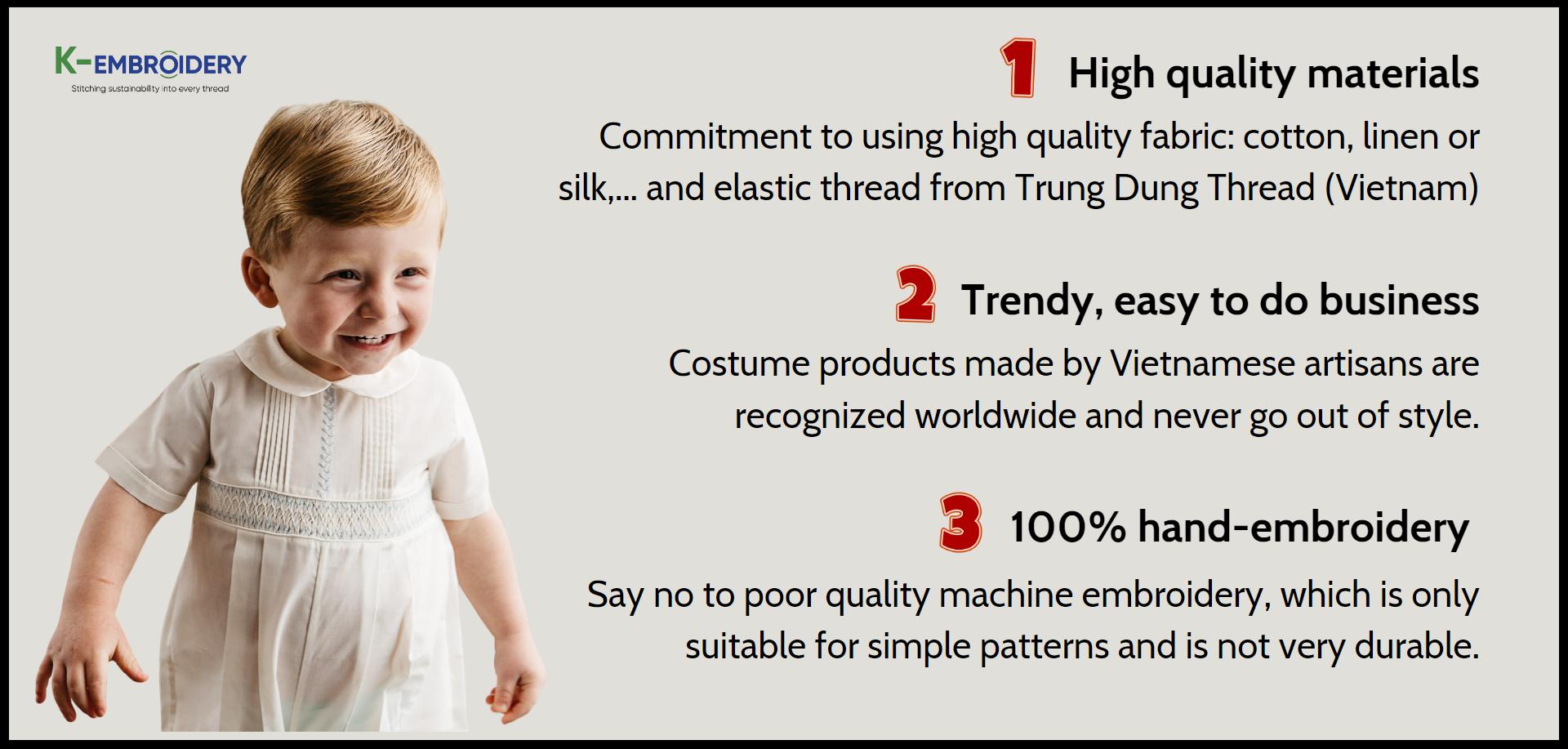 200+ Different hand smocked baby boy clothes models
When you are the owner of a children's fashion store, what you need are diverse, beautiful and trendy products. As a large embroidery company, we have more than 200 product samples available on the website & catalog. In addition, we are also ready to custom design hand smocked baby boy clothes according to each customer's request.
The list of smocked clothing products for boys at K-Embroidery includes:
- 0-3 month smocked romper boy
- 3-6 month smocked baby boy onesies
- 6 month smocked baby boy bodysuit
- 6-9 months smocked baby boy rompers
- 9-12 month smocked baby boy clothes...
Buy cheapest smocked baby boy clothes at K-Embroidery
As a wholesale factory, we understand that cost is a vital factor when running a children's clothing business. K-Embroidery is committed to providing hand embroidered smocked boy clothes at prices that are always 5-20% better than any other supplier. This is the result of the process of building a factory according to the LEAN system, in addition to low personnel costs in Vietnam, creating conditions for K-Embroidery to bring more benefits to wholesale customers.
Hand embroidered smocked boy clothes with the best quality in the world
Which country has the best tailors in the world? The answer is of course Vietnam. As a country ranked third in the world in terms of export market share of garments, and the cradle of embroidery, it is not surprising that Vietnam's hand-embroidered products are sought after worldwide.
At K-Embroidery factory, we have many embroidery experts ready to provide the world's leading 100% hand embroidery products.
To create quality hand embroidered smocked boy clothes products, input factors are also very important. At K-Embroidery, we only use premium fabric options such as cotton, silk or linen, as they are the most comfortable to wear and are perfectly suitable for children. We also use elastic thread from Trung Dung Thread, a famous embroidery thread supplier that is widely recognized globally.

FAQs about buying wholesale smocked clothes for baby boy at K-Embroidery 
1. What is the minimum order for boy smocked clothes?
- If you have your own design or you want to customize the design: 30 pieces per design. In 30 pieces, you can choose different sizes.  
- If you want our available design without any customization: 15 pieces/order. In 15 pieces, customers can choose different available designs and different sizes. For some designs that are only available in a few sizes, if customers want to buy more sizes, they still have to order a minimum quantity of 30 pieces/order.
2. How soon can I receive the order?
No matter where you are, you can receive your order in 30-40 days (including shipping time). This is the best production time you can find at a Vietnamese hand embroidery company.
3. Is there any discount policy when buying wholesale hand smocked baby boy clothes?
Of course, K-Embroidery always has an attractive discount policy for wholesale orders: 
- 200-299 pieces: Discount by 2%
- 300-499 pieces: Discount by 3%
- 500-999 pieces: Discount by 4%
- >1000 pieces: Discount by 5%
4. What about warranty policy?
- Our forever warranty policy means loyal wholesale customers can always exchange the garment extensions if any matter arises.
- We are willing to support and exchange smocked wholesale clothings in case there are any matters during usage. Even when the matter comes from customers' fault, we will support them to the best of our ability.
For more information, you can find at:  https://k-embroidery.com/warranty 
5. In which countries does K-Embroidery deliver?
Thanks to the development of information technology, we are now able to reach customers around the world online. No matter which country you are in, don't worry about shipping because we provide many solutions for you to choose from:
- Shipping by UPS, FedEx: Within 5-7 days
- Shipping by Air: Within 5-7 days
- Shipping by Sea: Transit time varies based on the destination port
6. How to order hand embroidered smocked boy clothes at K-Embroidery?
Below are instructions for ordering at K-Embroidery. If you have any questions, please contact Whatsapp +84 85 555 5961 for the fastest support: