K–Embroidery is a highly experienced and professional manufacturer of hand-smoked and embroidered children's clothing with over 25 years of expertise. Based in No.169, Nguyen Ngọc Vu Street, Cau Giay district, Ha Noi, Viet Nam, our specialization is creating high-end boutique-quality clothing exclusively designed for babies and exporting all over the world.
As top-rated OEM/ODM Clothing Manufacturers, we can bring your custom clothing concept to life. From the initial idea of a baby boutique to the complete manufacturing process, including custom design, pattern making, grading, fabric and trim sourcing, custom label and tag development, sampling, embroidery, and printing, we offer a full-service solution. With the motto "Quality is King", we promise to provide high-quality embroidered and smoked garment for children that make us different from others.
OUR COMMUNITY VALUE
BRING VIETNAMESE EMBROIDERY PRODUCTS TO THE WORLD
K-Embroidery growing company is built on a commitment to introducing Vietnamese embroidery products to the international market, so that not only Vietnamese consumers but also international friends can enjoy quality products from Vietnamese embroidery products. We aim to bring Vietnamese high-quality embroidery products to global importers at the most reasonable price.
PROVIDE JOBS FOR WOMEN AND PEOPLE WITH DISABILITIES
Recognizing the challenges faced by those with disabilities in finding employment, K-EMBROIDERY is dedicated to providing opportunities for them, tailoring roles to their unique strengths. K-Embroidery offers them training in various fields such as craftsmanship, smocking, embroidery, and industrial sewing. With our effort, we hope it helps individuals with disabilities feel that they can still perform tasks like regular individuals, enabling them to generate income for themselves without becoming a burden to society.
STITCH SUSTAINABILITY INTO EVERY THREAD
By preserving traditional handmade techniques and minimizing the use of modern machinery, we contribute to "green" fashion and high-quality, sustainable products in the Vietnamese textile industry. As a top manufacturer in Vietnam, K- Embroidery tries its best to make "green" fashion, providing high-quality and at the same time, eco-friendly garments.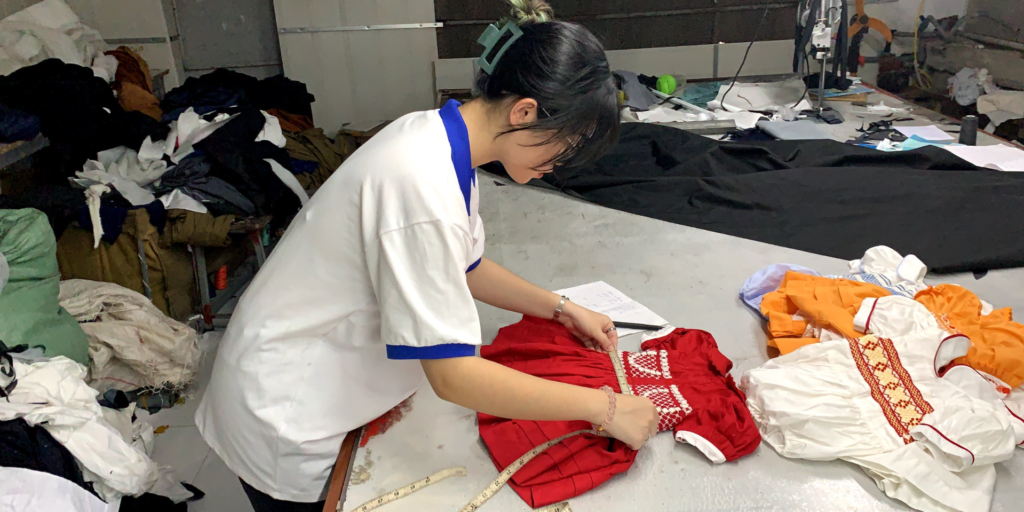 OUR HISTORY
– 1996: Established as small embroidery factory with the support of UNICEF to create employment opportunities for Vietnamese artisanal workers.
– 2000: Earned the title of a reputable and community-responsible enterprise.
– 2001: Our embroidery outsourcing brand became popular among children's clothing labels.
– 2010: Exported our first embroidered products to the neighboring Chinese market.
– 2015: Expanded our presence to Japan and South Korea
– 2020: Reached even further into the international market and are currently among the top 10 suppliers of smocking embroidery made in Vietnam.
Today, we support the livelihoods and well-being of over 200 women and their families who are skilled artisanal embroiderers in Vietnam. We take pride in being the first enterprise in Vietnam to employ disabled artisans, offering them a chance for a new life and opportunities despite their challenges.
WHY CHOOSE US?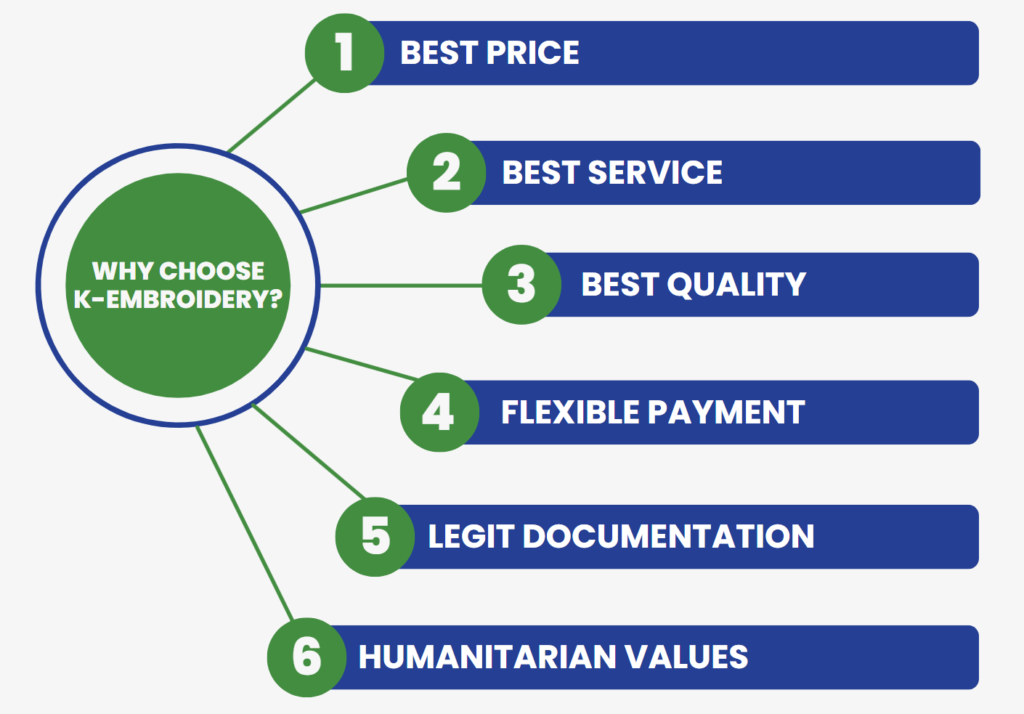 OUR PROMINENT FIGURES
MANUFACTURER AREA
✔️Manufacturing facilities in 5 provinces in Vietnam
✔️Representative office in Hanoi
✔️Representative office in the USA
OUR MARKET
OUR PRODUCT
FABRIC
"100% cotton fabric is the most common fabric we use. Linen is a higher-priced fabric and we are willing to make it according to customer requirements."
THREAD
"We use Elastic thread that is commonly used for creating smocked garments, shirring, gathering fabric, and making waistbands or cuffs that need to stretch to fit comfortably. The quality Vietnamese thread brand used is Trung Dung thread."
OUR FACTORY
OUR SHOWROOM
This is our showroom with all smocking and handmade embroidery items produced and exported.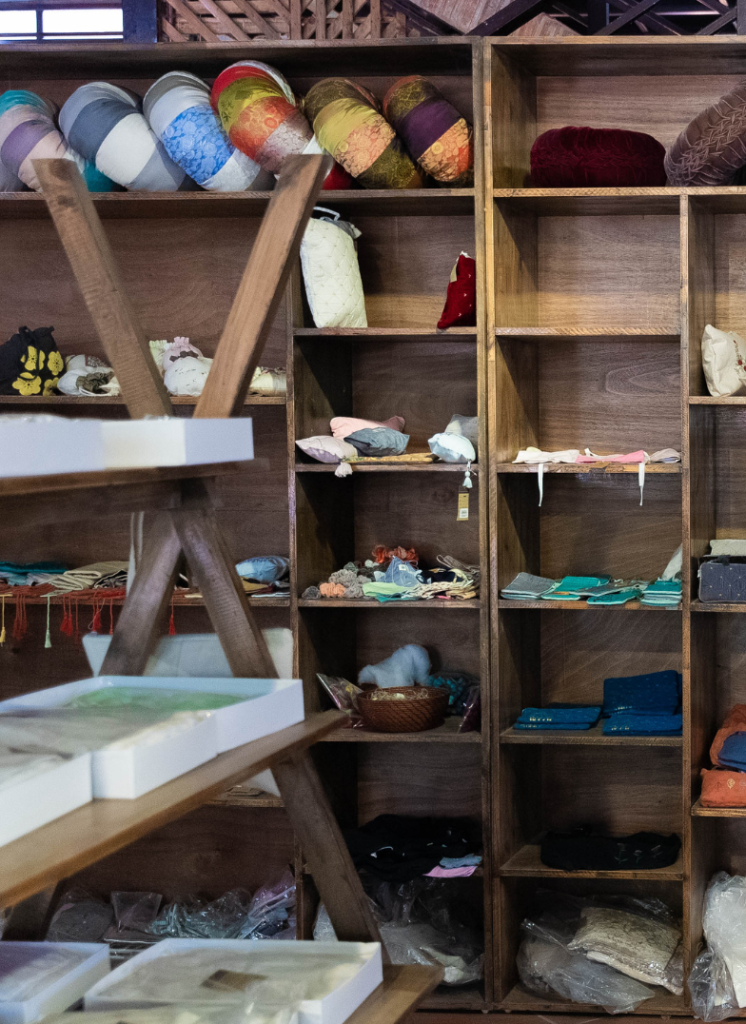 During 25 years of development, K-EMBROIDERY is one of the leading wholesale companies in Vietnam, powered by the Vietnam Ministry of Industry and Trade. Our core values, which represent the heart and soul of K-EMBROIDERY, are providing jobs and trainning for people in need.
We are dedicated to providing opportunities for them, tailoring roles to their unique strengths. K-Embroidery offers them training in various fields such as craftsmanship, smocking, embroidery, and industrial sewing. With our efforts, we hope to enable them to continually learn and improve their skill sets that support their building long-term careers.
OUR CERTIFICATE
INTERNATIONAL INDEPENDENT ASSESSMENT CERTIFICATE: TOP BRAND 2016
REGISTRATION CERTIFICATE FROM THE UNITED STATES PATENT AND TRADEMARK OFFICE
CERTIFICATE OF MEMBERSHIP OF VIETNAM TEXTILE AND APPAREL ASSOCIATION
THANK YOU
QUALITY IS KING