Baby Red And White Combination Flower Smocking Dress For Girl is always our best selling item. This product is never out-of-fashion and loved by customers over the world.
Product Information
Our products stand out with their bright red color, suitable for many special occasions: Christmas, Thanksgiving, Tet holiday,… Delicate petal patterns are especially suitable for feminine girls.
Baby Red And White Combination Flower Smocking Dress is 100% Vietnamese Human Embroidery
One of our best-selling item of all time
We provide a variety of high-quality fabrics for customers to freely choose from
K-Embroidery Size Chart
Below is the size chart that applies generally to the bishop dress product line at K-Embroidery.
Length chart of bishop dress at K-Embroidery
Wholesale Price List
Below is K-Embroidery's general price list for the Smock summer dress product line, promotion applicable only in November 2023. Price is calculated in USD, varies based on product quantity (smallest is 100 pieces and largest is 1000 pieces). The more you buy, the bigger the discount policy you will receive.
In addition, for every 20 dresses you buy, you will receive 2 free dresses.
Eg: Order Quantity is 400 pieces, cost is 400pcs x 18S x 97% = 6984$. Customers will receive 40 free dresses.
Wholesale Price List of Baby Red And White Combination Flower Smocking Dress
Production Process
K-Embroidery understands that delays have a huge impact on customers' businesses. Therefore, we are always committed to delivering goods before or on time and are willing to accept responsibility for any delay.
Production Process for large orders only from 30-40 days (5-20 days faster than any other brands).
Production Process for large orders at K-Embroidery
Why Choose Us
For B2B customers, fear of being scammed, fear of expensive purchases, or fear of going through procedures,… are constant worries. When choosing K-Embroidery, all these worries will be resolved.
K-Embroidery – The Bigggest Vietnamese Embroidery Company
K-Embroidery is is a reputable & quality hand smocking factoty
K-Embroidery certificates
Say No To Low-Quality Machines Smocking
K-Hair product say no to low-quality machine smocking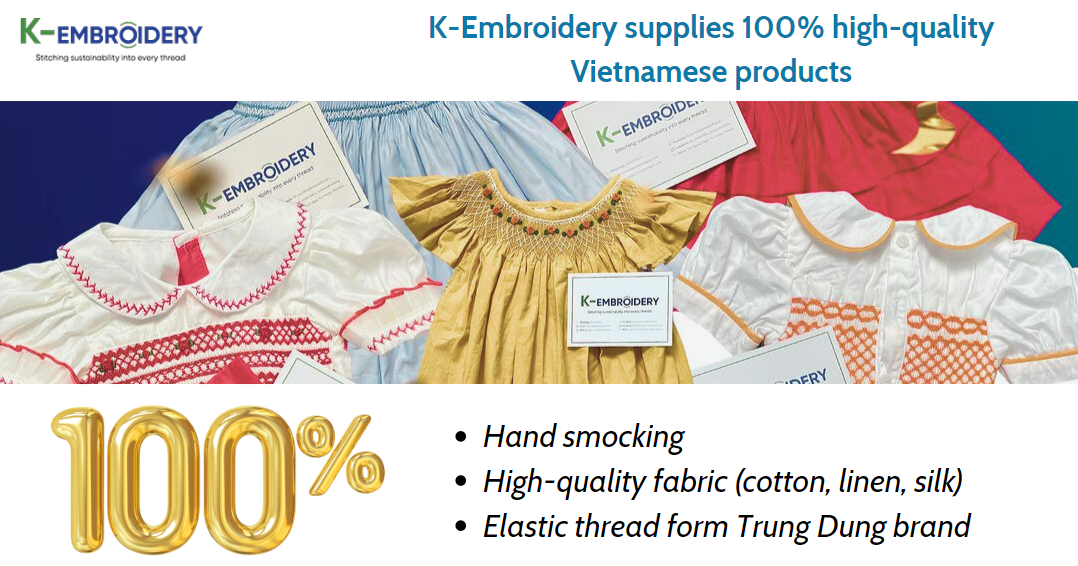 100% Highiquality Vietnamese Products
Product Feed Back
Contact Infomation
📞 Phone & Whatsapp & WeChat: 0833333901/0833333906
✉️ Email: info@k-embroidery.com
🌍 Office: 169 Nguyen Ngoc Vu street, Trung Hoa Ward, Cau Giay district, Ha Noi, Vietnam