Since first being known in the 14th century, napkins have gradually become known and widely used around the world. Today, they are one of the essential dining utensils of the upper class, appearing mostly at weddings or luxury parties. With such an important nature, the material as well as the meticulousness in the design of napkins are the most important issues.
Currently, hand-embroidery napkins products are being sought after by many traders thanks to the authentic beauty that machine-embroidery napkins products cannot achieve. If you are looking for a place to buy wholesale hand embroidered napkins at the cheapest price, K-Embroidery is the best answer.
Reasons why handmade embroidered napkins are loved around the world
First of all, I want to affirm that hand embroidery is an artistic and creative profession. It's almost like drawing. And hand embroidered products are not just goods, they are also works of art. For ceremonial items like napkins, this is really important. Bringing uniqueness to the napkin helps elevate the emotions of the guests at the party. This will not be found in machine-embroidered napkins produced in large quantities.
Each handmade embroidered napkin product created requires a lot of effort from the embroiderer. They have to stay focused for hours. Therefore, it is not surprising that the price of hand embroidery napkins is often more expensive than machine embroidery napkins.
For middle-class and upper-class families, owning handmade embroidered napkins in the family helps show wealth and high status in society. Or it's simply the way they enjoy life and take care of their family members.
Wholesale hand embroidered napkins at K-Embroidery - Great choice for your business
With more than 25 years of experience as the leading manufacturer of hand-smoked and embroidered in Vietnam, K-Embroidery is an ideal destination for vendors who want to buy wholesale handmade embroidered napkins.
100% Hand-embroidery by Vietnamese workers:

Garment products processed by Vietnamese workers are always highly appreciated by international consumers. K-Embroidery factory with 380+ highly skilled and experienced workers will be the place to create top luxury hand-embroidered napkin products.

Meets the most sophisticated embroidery patterns:

Machine embroidery napkins products will only meet simple motifs, while hand embroidery can meet all the most complex details. K-Embroidery is always ready to create the most classy hand embroidery napkins models.

High quality materials:

Cotton, linen and silk are the high quality fabrics we use to create top napkins products. Our embroidery thread also comes from the leading thread brand in Vietnam - Trung Dung thread. These are the bases for us to produce top handmade embroidered napkins.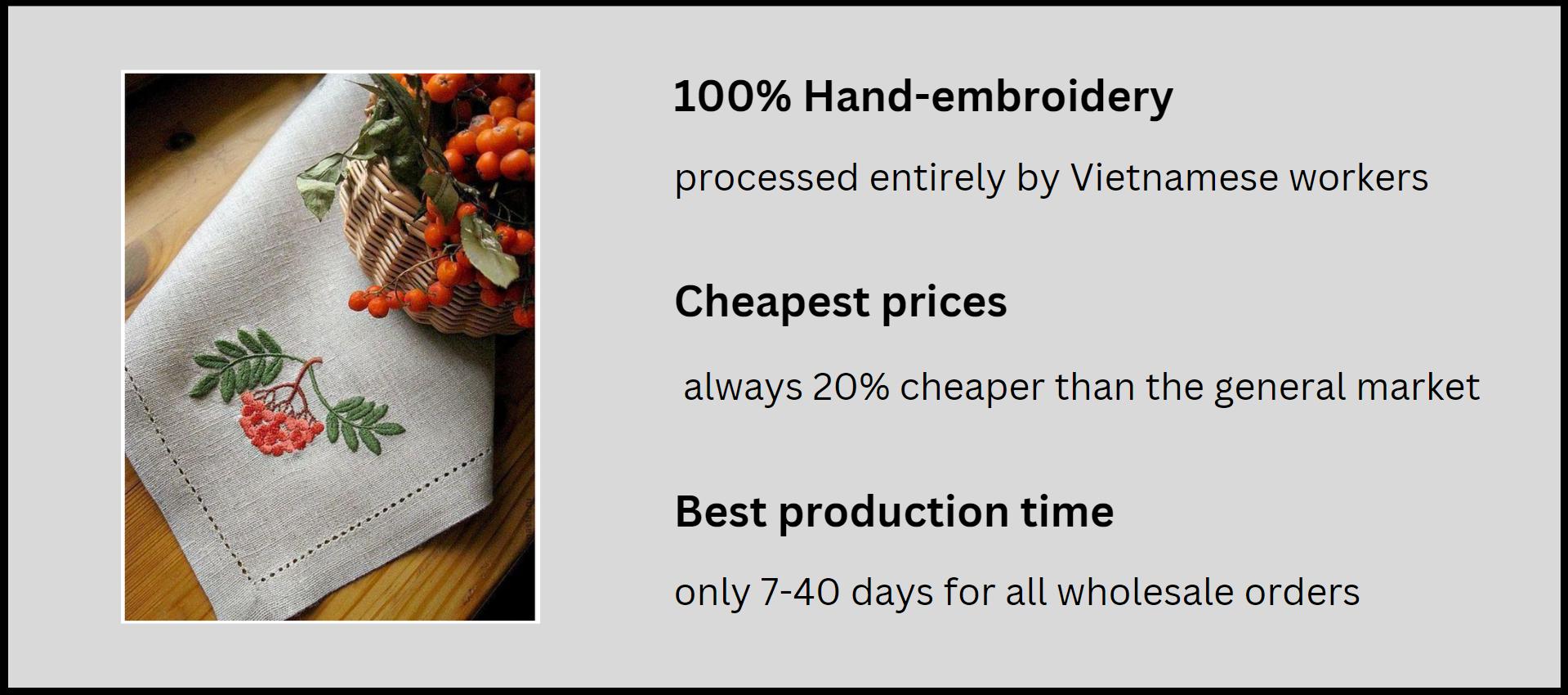 Prices are always 20% cheaper than the general market:

If you dig deep, you will find that the prices of our handmade embroidered napkins products are 5-20% cheaper than the general market. This is not a small number when you order in bulk.

Best production time for wholesaler:

Hand embroidery requires steps that cannot be done quickly. But with a strong team of highly skilled workers, our production time is only 7-40 days for all wholesale orders. That is at least 10 days faster than any embroidery company in Vietnam

Enthusiastic customers service 24/7:

K-Embroidery always wants long-term cooperation with all partners. Therefore, we are ready to support you 24/7 even after the order has been successfully delivered.
Maybe you are interested: K-Embroidery - Top 1 Wholesale Smock Clothing Supplier in Vietnam
Types of hand embroidery napkins at K-Embroidery
You can easily find embroidered napkins from K-Embroidery through our Website, Instagram or Facebook. The fastest way, please contact our 24/7 Sales team via Whatsapp: +84 85 555 5961 for free support!!!
Price list of handmade embroidered napkins
Below is the wholesale price list of hand embroidery napkins at K-Embroidery. Price is calculated in USD, varies based on product quantity (smallest is 100 pieces and largest is 1000 pieces). The more you buy, the bigger the discount policy you will receive.
We will update the price list regularly. To not miss the latest promotions, contact us directly via Whatsapp: +84 85 555 5961 for enthusiastic advice!
Order Instruction
Below are detailed ordering instructions from K-Embroidery for wholesalers who want to order hand embroidered napkins in bulk.
Warranty Policy
Not many wholesale embroidery companies dare to promise to refund or exchange customers when errors occur. On the other hand, K-Embroidery puts reputation first, always wanting long-term cooperation with all customers. Therefore, we have developed a very specific guarantee policy as follows:
If you have any questions or want to order hand embroidered napkins in bulk, feel free to contact K-Embroidery at the following contact information:
📞 Phone & Whatsapp & WeChat: +84 85 555 5961
✉️ Email: info@k-embroidery.com
🌍 Office: 169 Nguyen Ngoc Vu street, Trung Hoa Ward, Cau Giay District, Ha Noi, Vietnam