Rompers or bodysuits constitute an essential component of every newborn's wardrobe, providing convenience for parents and comfort for babies aged 12-18 months. Crafted as one-piece garments, rompers are designed to minimize irritation and regulate a baby's core body temperature. This versatility makes them ideal for various seasons – pairing well with leggings or trousers in winter for added warmth, and serving as standalone outfits during the warmer summer days.
Currently, newborn smocked rompers - smocked bodysuits are being sought after all over the world thanks to their beauty and great convenience. If you are looking for a place to buy wholesale smocked rompers for infants, then you've come to the right place. K-Embroidery will provide you with children smocked clothing products with the cheapest price and highest quality.
What is a smocked romper / smocked bodysuit?
A baby romper or bodysuit  is a one-piece outfit for babies and infants that covers the body from the waist to the feet. It typically has shoulder straps, snaps at the crotch, and sometimes decorative features such as frills or bows.
It is often made of soft cotton (high quality) or cotton-polyester blend fabric (less high quality). Some baby rompers also have built-in feet to keep little toes warm and cozy.
K-Embroidery's rompers & bodysuits for infants are 100% hand-smocked which makes them one-of-a-kind and unique. They are made of the finest quality cotton (100%) and are perfect for special occasions or everyday wear.
3 Reasons why smocked baby rompers are a must-have in baby's wardrobe
- Comfort and Breathability: One of the primary reasons handmade baby rompers are a must-have is the comfort they provide. These one-piece outfits are typically made from soft, breathable materials like cotton or silk, linen, ensuring babies stays comfortable throughout the day. The loose-fitting design allows for easy movement and doesn't restrict infants mobility as they learn to crawl, stand, and eventually walk.
- Convenience and Ease of Use: Another significant advantage of bodysuit infant is their convenience. Designed as a single piece of clothing, smocked bodysuit eliminate the need for coordinating separate tops and bottoms. This feature not only simplifies dressing your baby but also reduces laundry loads. Additionally, many bodysuit infant come with snap buttons or zippers, making diaper changes quick and hassle-free.
- Versatility and Style Options: Smocked baby rompers are incredibly versatile, making them suitable for various occasions. Plus, handmade newborn smocked romper can be easily layered with other clothing items like cardigans or leggings for added warmth during colder months.
What makes K-Embroidery's smocked bodysuits so special?
You can find many manufactors on the market willing to provide smocked bodysuits in bulk, but there will be no manufactor better than K-Embroidery, for the following reasons:
- We are the biggest embroidery company in Vietnam: With over 25 years of expertise in wholesale baby smocked clothing, K-Embroidery is a trusted destination for all partners globally. We have a large factory system, with more than 380+ skilled Vietnamese embroidery workers, ready to meet over 20,000 pieces of garment/month.
- 100% Hand smocking by skilled Vietnamese workers: What really sets us apart from other children's clothing suppliers is that we make our smock pieces entirely by hand, not machines. Thanks to that, each product is unique and possesses the highest level of perfection.
- Diverse newborn smocked romper models: We have more than 200+ smocked romper models for infant in webiste & catalog that provide wholesalers with more diverse choices.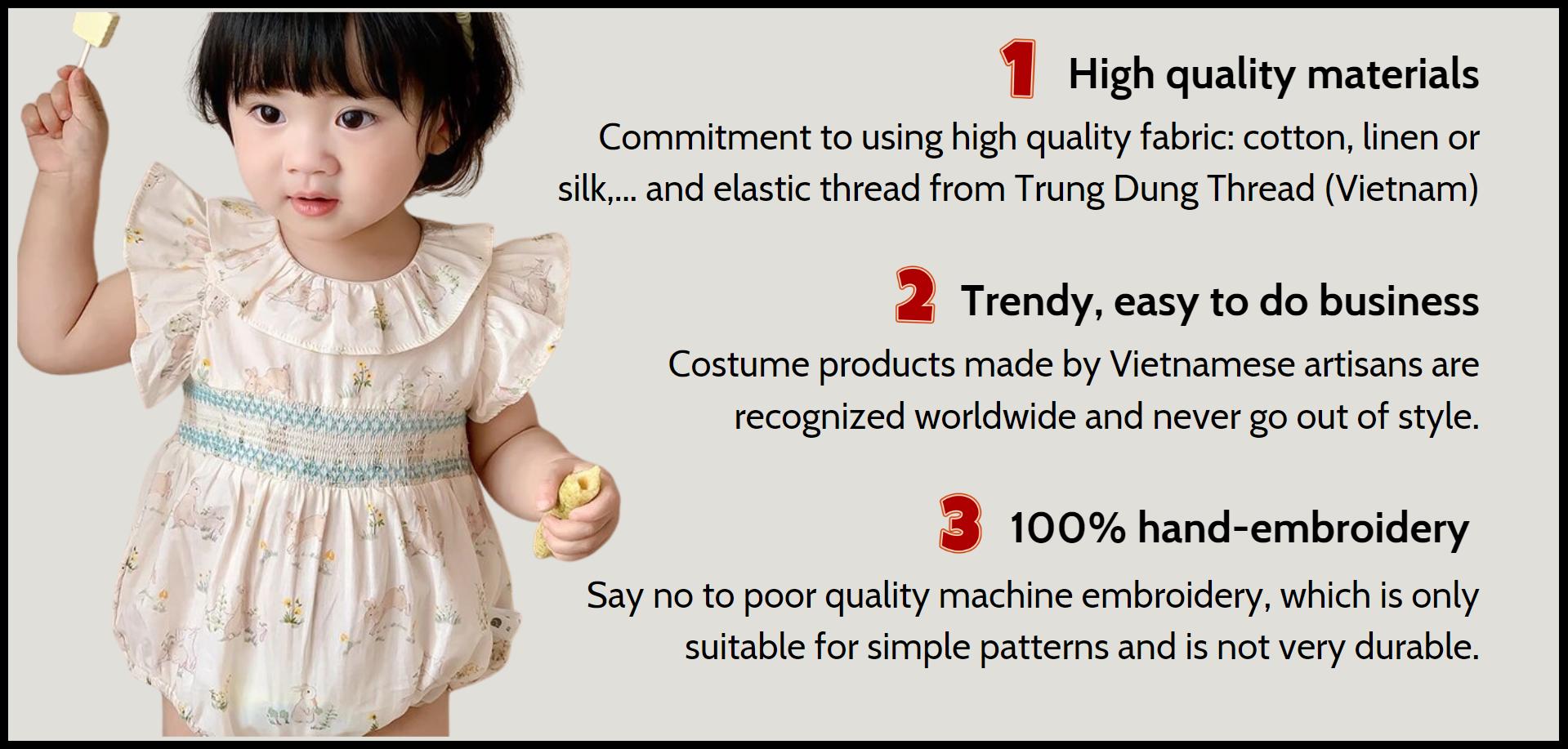 Buying Wholesale Smocked Rompers at K-Embroidery - The perfect choice
We are No.1 wholesale smocked clothing factory in Vietnam. For Children's Fashion Store Owners, Online Sellers & Wholesalers,... K-Embroidery will be the best choice for the reasons below: 
Cheapest price
We offer 5-20% cheaper price for handmade rompers than any other supplier.
Fastest production time
No matter where you are in the world and how big your order is, you can receive your order in just 30-40 days. We deliver garments to all wholesale customers at least 5-15 days faster than other suppliers.
Lowest MOQ in the worldwide market
While other manufacturers only accept MOQs of 100 pieces or more, K-Embroidery allows you to place a minimum order of 30 pieces of hand embroidered rompers. We understand that testing is important in business and strive to help you get there.
Steps to order embroidered rompers at K-Embroidery 
Finally, if you want to order handmade embroidered rompers, hand smocked bodysuits at K-Embroidery, below are specific ordering instructions: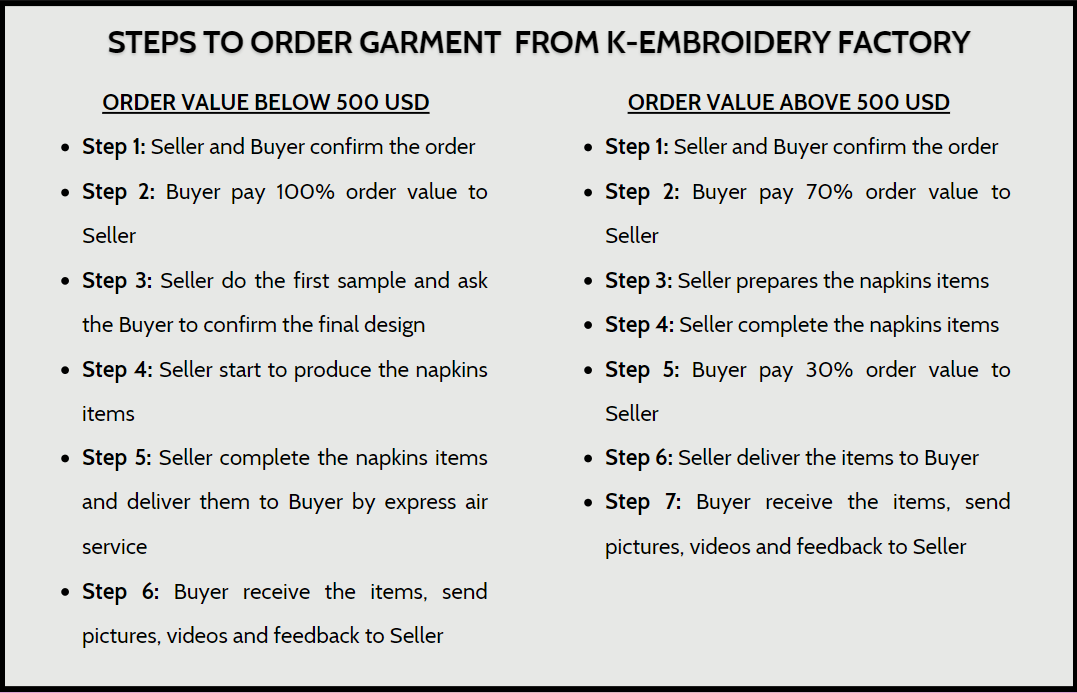 For quickest helps, please contact us via Whatsapp: +84 85 555 5961. Wish you have great experiences working with our Sales team