Smocked garments and dresses are some of the most popular options for infants. These garments feature the classic pleated fabric, most often around the neckline. In existence for decades, it is one of the best choices for family heirlooms, as it will never go out of style!
And if you want to buy wholesale handmade smocked outfits for babies, then you've come to the right place. K-Embroidery will provide you with large orders, with the best quality and price in the world, we promise you will not be disappointed!
What is hand embroidered/hand smocked dresses for infant?
Hand embroidery is a traditional art form that uses a needle and thread to decorate fabric or other materials. This craft has been practiced for centuries across different cultures and regions, especially in Asia: China, India, Vietnam,... where there are skilled hand embroiderers.
Hand embroidery has many outstanding advantages that you cannot find in machine embroidery. Hand embroidery can create elaborate patterns, and hand-embroidered products rarely have errors. That makes it a popular choice for mothers when choosing outfits for their babies.
There are many different hand embroidery techniques. Among them, hand smocking is the most difficult but popular technique.
K-Embroidery is the address where you can buy hand smocked children clothing in bulk with the cheapest price and highest quality.
Why you should buy wholesale baby smocked clothing at K-Embroidery?
K-Embroidery has over 25 years of expertise as professional manufacturer of newborn embroidered clothing. Based in Ha Noi, Viet Nam, our specialization is creating high-end boutique-quality clothing exclusively designed for babies and exporting all over the world. Here are some reasons why we are the #1 choice for wholesalers, children's fashion store owners or online sellers,...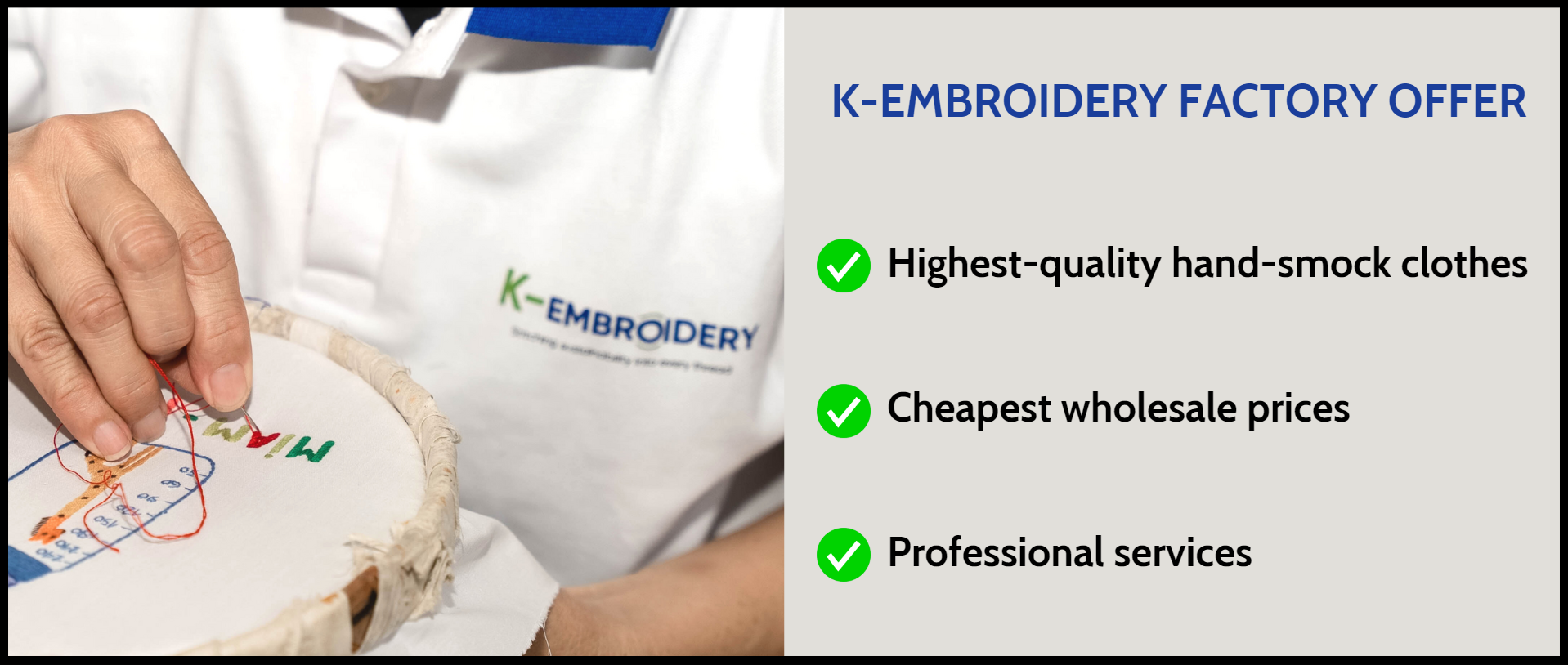 Our products are different from the rest
- 100% Hand smocking: We have a large factory in Vietnam with more than 380+ professional workers. K-Embroidery commits that all products are 100% hand smocked, without using machines to create mass samples. Each product is unique and perfectly cared for by humans.
- High quality materials, suitable for children: We want to create comfort for any baby wearing our products. Therefore, the materials we choose are the best and most suitable for children's sensitive skin. K-Embroidery commits to only using cotton, silk or linen materials. SAY NO to synthetic fabrics and cheap polyester blend fabrics.
- Diverse designs: We have 200+ product models on the website and catalog including: infant smocked dresses, unisex smocked baby clothes, hand embroidered rompers, hand embroidered bodysuits for infant,... As a top-rated OEM/ODM Clothing Manufacturer, we also meet all designs according to your wishes.
- Easy to do business: Hand embroidered infant clothes models originating from Vietnam are widely recognized worldwide for their quality. Therefore, you will not need to worry about not being able to do business after purchasing.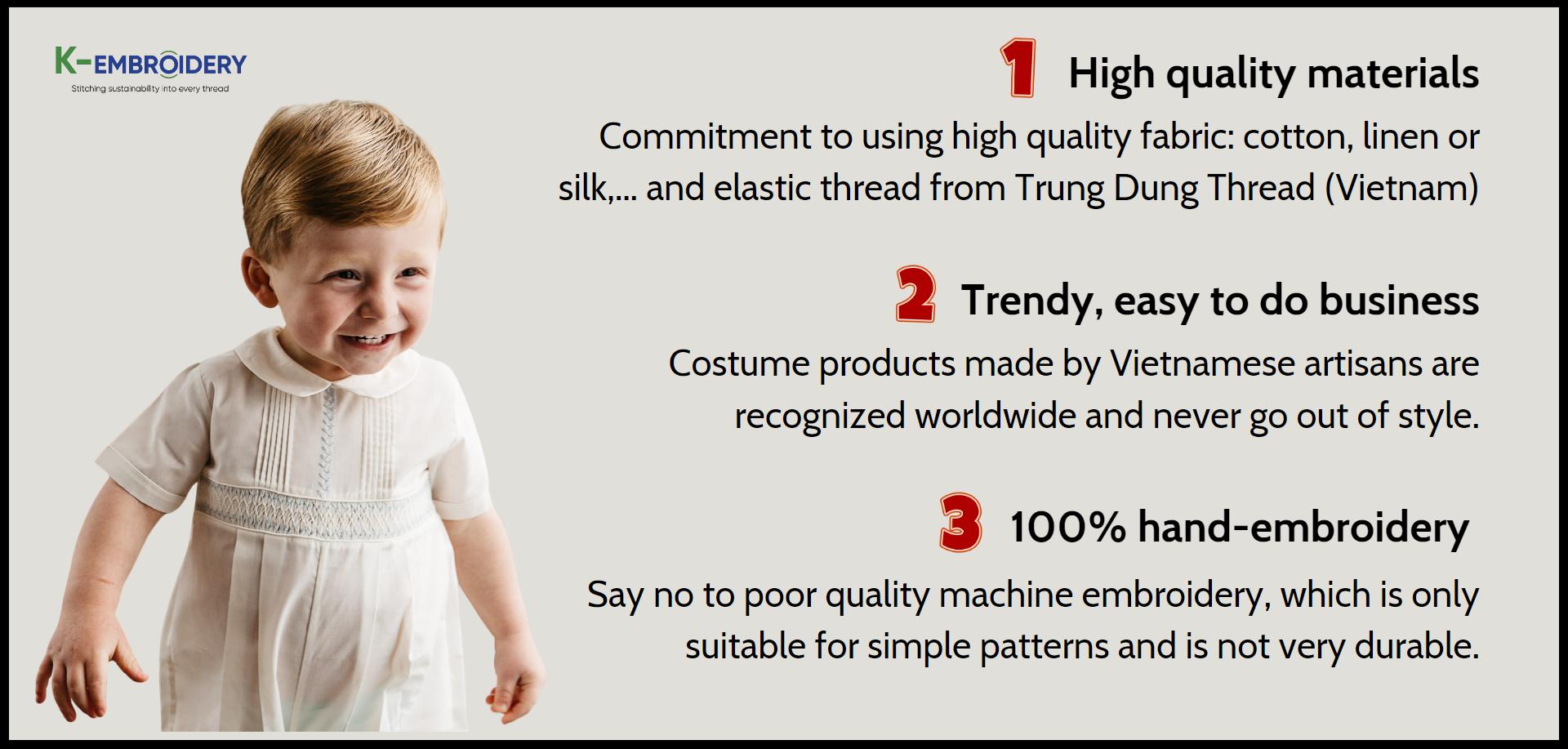 Cheap price, High discount policy
K-Embroidery is committed to providing baby smocked clothes at a wholesale price 5-20% cheaper than any other embroidery company in Vietnam. This is because we built the factory according to LEAN systems and have strong relationships with input suppliers.
In addition, we also develop a very clear discount policy for wholesale customers as follows:
- 200-299 pieces: Discount by 2%
- 300-499 pieces: Discount by 3%
- 500-999 pieces: Discount by 4%
- >1000 pieces: Discount by 5%
Lowest MOQ on the market
While other embroidery companies require a minimum order of 100 pieces or more for embroidered newborn outfits, our MOQ is only 30 pieces/design. We understand that testing is important, so K-Embroidery will support you with the lowest MOQ within our capabilities.
Customer servive
If you are new to the baby embroidered clothing business, so keep your spirits up, be confident and rock your journey. We are pleased to have K-Embroidery accompany you on this journey. We also have a lot of experience to share with beginners and will fully support the necessary procedures for your business to operate smoothly.
Information you need to know when buying wholesale smocked baby clothing at K-Embroidery
Production time for bulk order
Because we do hand embroidery, this process will require more time than machine embroidery. However, K-Embroidery owns a large number of workers, so it will optimize production time for other stages.
Currently, for large orders, wholesale customers can receive orders in 30-40 days (including shipping time), which also means you will receive your goods 5-15 days faster. days compared to ordering anywhere.
Our Certificate
We set up our factories under the ISO1:2015 STANDARD. K-Embroidery knows that our clients care enough about product safety. To give you that assurance, our products, which are manufactured under sustainable working conditions, proudly wear the STANDARD 100 by OEKO-TEX® label. Our ambition is to become an ethical and sustainable children's wear manufacturer certified with WRAP and SA8000. Moreover, we hold GSV, ISO 13485:2016 & CE Marketing certificates to demonstrate our high commitment to complying with quality standards and social responsibility. 
Warranty policies
Our enduring warranty policy ensures that our valued wholesale customers can readily replace any garment extensions should any issues arise. We are committed to assisting and replacing smocked wholesale clothing in the event of any concerns during usage. Even if the issue stems from customers' mistakes, we will strive to provide the best possible support.
Steps to order wholesale smocked baby clothing at K-Embroidery
Below are ordering instructions for wholesale customers at K-Embroidery: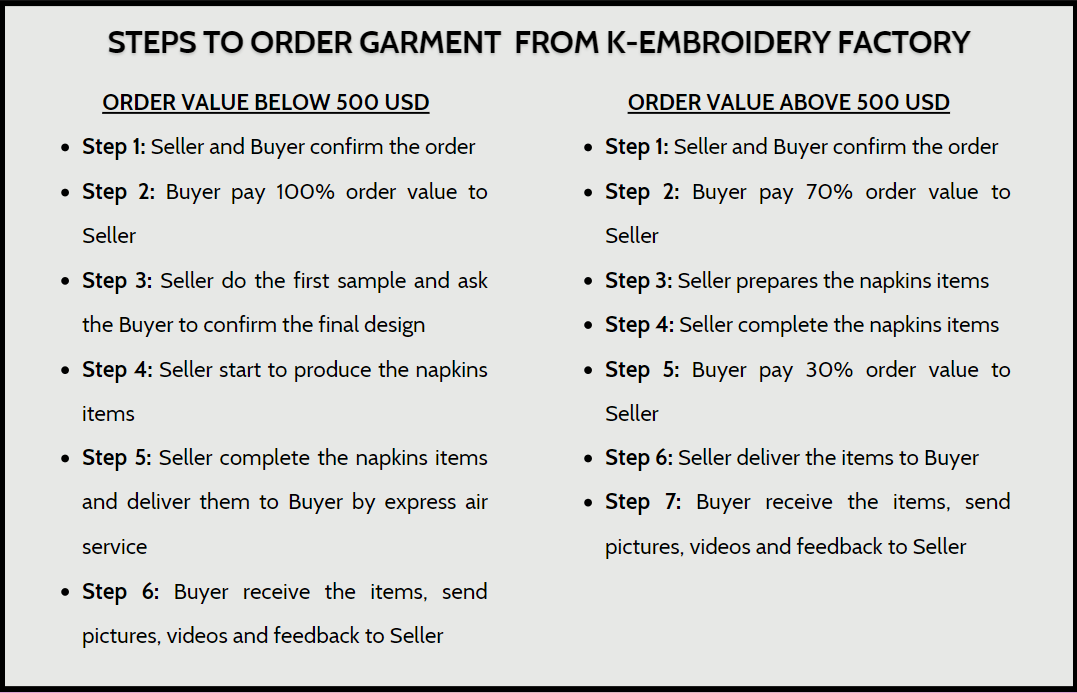 Ultimately, when seeking the finest wholesale Vietnamese baby smocked clothing to collaborate with, K-Embroidery is your go-to choice. Feel free to reach out to us on WhatsApp at +84 85 555 5961, and we can collaborate on crafting the most advantageous wholesale orders for your needs.